• full • fullmoon • moon • ritual • scorpio • spread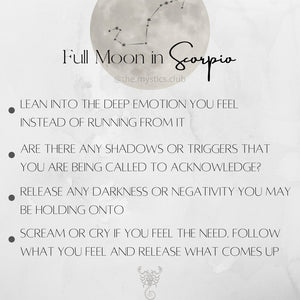 Scorpio is deep, mysterious, and sexual -  I think it scares the shit of out of some people, to be honest. They are intense and have this epic power to understand transmutation and transformation. They are boldly in charge of their sexuality.
---
• astrology • blog • club • crystals • full • journal • moon • ritual • water
This full moon will take place in Leo, occuring at 2:16 pm EST. Leo is a sign of courage and heart. It asks us to shine the light everywhere, including on ourselves.